Let's take a look at podiatry
A podiatrist is a health professional who works with the prevention, diagnosis, treatment as well as rehabilitation of health-related and surgical conditions of the feet and lower limbs.
The problems podiatrists address include things like those caused by bone and joint disorders such as arthritis and soft-tissue and muscular pathologies and also neurological and circulatory conditions. Podiatrists are also able to identify and treat virtually any difficulties of the above that affect the lower limb, for example skin and nail disorders, corns, calluses and ingrown toenails. Foot injuries and infections gained as a result of sport or other activities are also diagnosed and handled by podiatrists.
To be a podiatrist, a practitioner needs to finish a Bachelor's Degree and be registered with state podiatry registration boards.
You could be interested to know that before 1977, Australian podiatrists were known as chiropodists. The official name switch to podiatry demonstrated the updating of education levels and an expansion in the range of practice by the profession.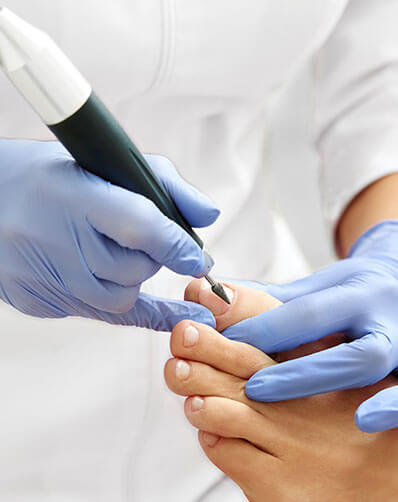 A few fields in which podiatrists may develop a special interest include:
Sports medicine
Biomechanics
Paediatrics
Surgery
Diabetes
Arthritis
Gerontology
The expertise of a Podiatrist
Podiatrists diagnose and treat both common and more exceptional skin and nail pathologies of the feet. Podiatrists perform a significant role in maintaining the activity of numerous aged and disabled individuals, and others. This is accomplished by the regular tracking of foot health, specifically of those with circulation problems and diabetes.
Podiatrists are acknowledged as vital members of the medical care workforce in preventing and managing lower limb difficulties for those living with diabetes.
A basic area of foot care carried out by podiatrists is the treatment of a variety of acute and chronic nail problems, the management of which depends upon the pathology.
Podiatrists own certain instrumentation for pain-free and efficient management of these problems. For instance the surgical correction of chronically ingrown toe nails under local anaesthesia is a very common podiatric procedure.
The treatment and prevention of corns, calluses and also warts are also standard podiatric treatments.
Podiatry and Children's Feet
The child's foot is not simply a small-scale model of an adult foot. It's shape is not conclusively established until growth ceases after the second decade of life. Podiatrists detect and treat children's foot problems by mindful examination of the foot, and lower limb, where essential.
Guidance for the prevention or reduction of foot deformity which often forms later in adult life may include the provision of relevant information on footwear, treatment by splinting, suggestions about exercises and/or orthotic control of the feet. Podiatrists also treat common, chronic and acute issues of children's feet for example osteochondroses, fasciitis and pes planus.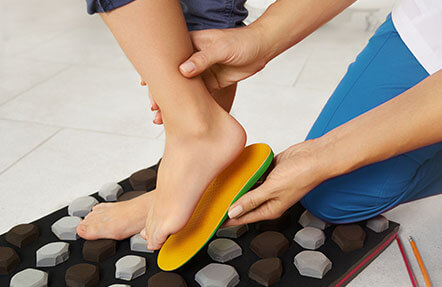 Orthoses – Orthotics
Orthoses are custom-made shoe inserts developed especially to help reduce a foot pathology. The prescription and manufacturing of orthoses is an important part of podiatric practice. Podiatrists are trained in the manufacturing processes for a selection of shoe inserts. Most inserts fall into two primary groups – functional orthoses or palliative orthoses.
Functional orthoses are prescribed after the biomechanical assessment and casting of the feet. They are manufactured by numerous methods to straighten up the structure of the foot in its most functionally efficient position. The orthotic, moulded from the cast, is designed to strengthen the foot and to stop it from moving into an unbalanced position when walking or running.
These inserts involve several steps in both the diagnostic and production stages, and are typically made from a thermoplastic.
Palliative orthoses are designed especially to eliminate pressure from painful or ulcerated areas of the foot. These are usually softer and significantly less complex devices made of foam or rubbers. Palliative orthoses in many cases are employed for the management of severely deformed feet with a limited range of motion and mobility. They are often a suitable choice for seniors with significant soft-tissue atrophy and/or circulatory illness.
Podiatry and Surgery
Podiatrists are skilled to conduct both nail and also cutaneous surgical treatment, however some have undertaken further training to undertake additional foot surgery.
Do I need a medical referral to see a Podiatrist?
It is usually not required to have a referral to see a podiatrist. However, for patients to receive podiatry treatment within various programs such as those run by Veterans Affairs, Workers Compensation, or the Program for Aids for Disabled People (PADP), a medical recommendation is necessary.
Private health insurance funds include podiatry services in their ancillary tables.
Government-funded services are available in some public hospitals, community health centres along with other publicly funded utilities.
Podiatry Preston – is located at 614 Bell Street, Preston.
Podiatry Gladstone Park – located at 27B Gladstone Park Drive, Gladstone Park